Seriously, use only the very best ingredients for this recipe.
I love homemade Butterscotch Sauce with crisp apples; love to dip and dunk and enjoy. John? He would eat it straight from the jar (and I'm sure he has)…but also loves it on ice cream.
This holiday season I decided to gift the hospice nurse, social worker and aide that come to our home frequently and share so many kindnesses with us. But I wanted to do something from our kitchen…from our home…from our hearts. Butterscotch Sauce seemed to fit perfectly.
When I make this I find it much easier to make individual batches…it ensures that I don't overcook the sauce and eliminates any mishaps of making caramels instead of sauce!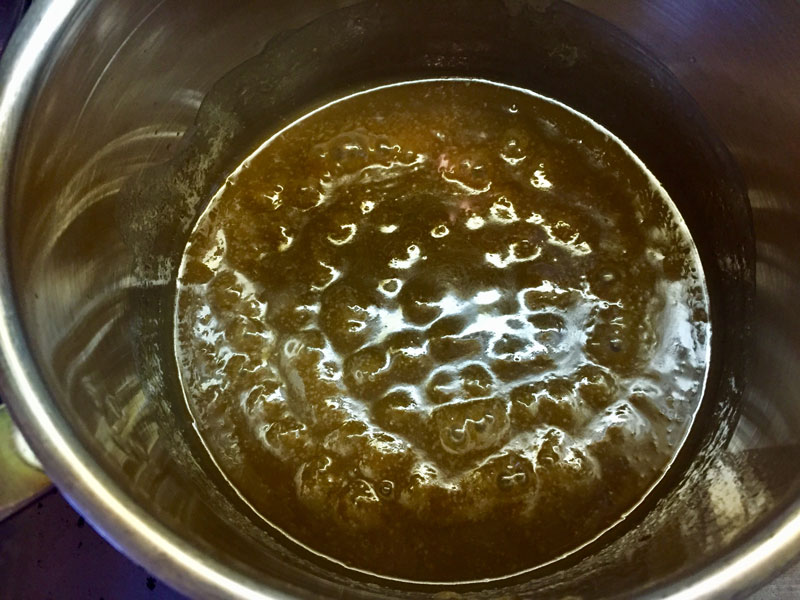 I don't stress myself out with making cute little tags or painting the canning jars or other such things that interfere with what's inside…buttery, salty lusciousness. But, if decorating a gift jar is your thing—knock yourself out!
A funny side story that I shared with a friend recently:

I loved buying holiday magazines…but here is my secret to surviving the onslaught of feeling I had to do all of it to create THE perfect holiday…I wouldn't read them until February! Then, if I saw an idea I really liked, I'd use it for the upcoming year.
There are small (4 oz.) canning jars available…but who are we kidding? No one wants just 4 oz. of Homemade Butterscotch Sauce! Opt for these Ball 8 oz. canning jars instead.
Use unsalted butter (because you're adding some flake salt) and pure vanilla extract.
It goes without saying that the better the saucepan, the more even the conductivity and cooking. If you're in need of a new saucepan, here are a few recommendations; you can always add these to your holiday wish list.
Oh—and truly don't forget to make a jar for yourself. Keep refrigerated and tell the recipients to do the same.
Enjoy this treat anytime of year…you'll love adding this easy sauce to your kitchen repertoire.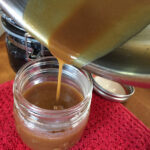 Print Recipe
Bev's Homemade Butterscotch Sauce
Ingredients
4

Tablespoons

unsalted butter

½

cup

firmly packed dark brown sugar

1

teaspoon

flake salt

½

cup

heavy

whipping cream

1

teaspoon

pure vanilla extract
Instructions
Over medium heat, melt the butter in a medium saucepan (not nonstick).

Add the brown sugar, salt and cream.

Stir gently with a heat resistant spatula, blending well.

Bring the mixture to a boil (at this point I like to switch to using a whisk).

Keep the mixture at a consistent low boil (you should see bubbles throughout), whisking often, and cook for 4 to 4 ½ minutes.

Immediately remove the saucepan from the heat and whisk in the vanilla.

Carefully pour the mixture into the jar or container and allow to cool before covering and refrigerating.

Note that the sauce will thicken as it cools; it can be rewarmed, uncovered, in the microwave for a short 15 to 25 seconds
Notes: On the odd chance this lasts, it keeps (refrigerated and covered) for one week.
SILKINESS!
*Note that this post may contain affiliate links, and I may receive something from purchases. Thanks in advance!