Honestly, I've loved buttermilk for quite some time. I make a mean buttermilk bread…and, considering I'm a "Jersey girl" at heart my buttermilk biscuits would make any Southerner proud. And did I mention my buttermilk waffles with buttermilk fried chicken tenders? Yum.
But — when I make my Buttermilk Fruit Cobbler, all bets are off.
Let's take a little fruit side trip first: I only eat peaches and apricots when they are local and in season. This isn't necessarily the Breaking News that will scroll across your screen while you're watching your fave show. For peak flavor, these two fruits, never refrigerated, locally grown and in season are drip-down-your-chin delightful. So, after I've indulged I also buy enough to slice, toss with fresh lemon juice and IQF* for later enjoyment.
Did I catch you with your mouth watering and no buttermilk in the house? Not to fret! Buttermilk is easy to make: for every 1 cup of whole or 2% milk, stir in 1 Tablespoon of either lemon juice or white vinegar. Let the mixture stand for 10 minutes and viola! Homemade buttermilk.
Back to my Buttermilk Fruit Cobbler: Fresh fruit is fine for this recipe, but there have been times [don't judge me] that I've started the recipe at 10pm or later…and buying fresh fruit at the local market in my nightgown is frowned upon. During those "can't sleep" nights, it's my freezer to the rescue, where I'll pull out some of those aforementioned peach slices, frozen blueberries and those pitted tart cherries I also stocked up on one other ambitious summer day.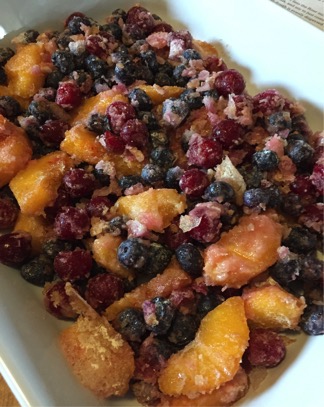 Now, I don't want to go all Martha on you and have you think that you need to do all of this slicing and pitting and freezing if you're not inclined—great quality fresh or frozen fruit is available at your local market (nightgown optional). Do your thing, but be sure that your thing includes making this recipe. Trust me on this—you won't be sorry!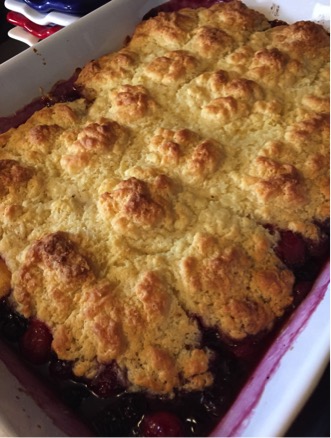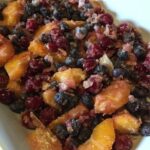 Print Recipe
Bev's Buttermilk Fruit Cobbler
Ingredients
2

cups

plus 2 ½ Tablespoons unbleached, all purpose flour, divided

1 ½

teaspoons

baking powder

1

teaspoon

baking soda

½

teaspoon

sea salt

6

cups

fruit

fresh or frozen, unthawed*

½

cup

granulated sugar

1

Tablespoon

fresh lemon juice

½

teaspoon

ground cinnamon

½

cup

unsalted butter

cut into small pieces and chilled

1 1/3

cups

buttermilk
Instructions
Place 2 cups of the flour, the baking powder, baking soda and salt into a food processor; lock cover and pulse once or twice to combine. In a large bowl, toss together the fruit, sugar, lemon juice and cinnamon along with the remaining 2 ½ Tablespoons flour. Transfer mixture to a deep 9" x 13" baking dish and set aside.

Scatter the cold butter pieces over the flour mixture in the food processor, lock the cover, and pulse until mixture resembles coarse crumbs – stopping once or twice to scrape down the sides.

Transfer flour/butter mixture to a medium-large bowl. Add the buttermilk, stirring just to combine.

Spoon or scoop the batter onto the fruit mixture to evenly disperse, allowing some pockets of fruit to "peek out" from below.

Bake until the biscuit topping is golden and the fruit is juicy and bubbling – about 45 to 55 minutes. Let cool slightly before serving. Serves 6 or more.
Bev's Bites:
My go-to baking dish is by Emile Henry, and food processor is from Cuisinart.
If using frozen fruit, don't thaw, and unsweetened is preferred.
As mentioned, a combination of fruit—such as blueberries, peach slices and pitted tart cherries—makes this cobbler extra special.
If a food processor is not available:

Whisk the 2 cups of the flour, baking powder, baking soda and salt in a large bowl.

Work the butter into the flour mixture until the mixture resembles coarse crumbs, then add the buttermilk stirring just to combine.
*Individually Quick Frozen: place the lemon juiced slices on a cookie sheet until frozen solid, then bag immediately and store in the freezer until ready to use.
*Note that this post may contain affiliate links, and I may receive something from purchases. Thanks in advance!