Sometimes visiting friends, after spending a few minutes in my very small old-house kitchen will say things like "do you really need all these whisks?" and I'm not sure if that's a question or they're just being—well—ridiculous.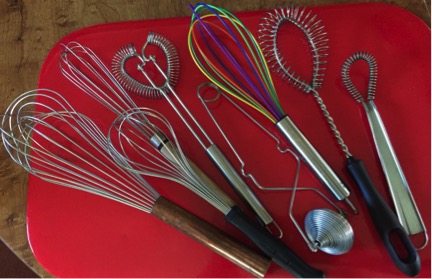 Until I get a sense of what they REALLY mean (e.g. are they judging my choice of whisks? Is there a style of whisk they're familiar with that I don't have? Do they honestly think one whisk…just one whisk…would be enough? Should I tell them about the other whisks I have stored away that don't fit on the counter?), I don't respond.
But, inevitably, we have "the whisk" discussion. Oh, it's not near as serious as the "your body will be changing" or any of the other cringe-worthy but necessary discussions – but it's serious.
"Let me tell you about these whisks," is the way the chat always starts…
First, there's the balloon whisk with the copper handle…in case I get the urge to whip egg whites into a frenzy in my copper bowl. [Note that to date, I have not had this urge but the whisk is still up there on the coolness chart.]
Then there's my favorite whisk made by Gerber many years ago. I love this whisk and if I were stranded on a desert island and could only have one whisk, that would be it. Black nonslip handle, not too big of a globe, yet not too small—love it.
There's the USA made long thin whisk with the wood handle – a unique shape that comes in handy when I need to emulsify something in a measuring cup. And of course there's the oddly shaped whisk that gets in all those saucepan corners when you're making a crème anglaise. The flour shaker, not really a whisk but I let it reside with the others; it opens and captures a small amount of flour that you can sprinkle lovingly on your counter when making pie crusts.
My rainbow unicorn whisk made of silicone for nonstick pans and my whisk that I purchased in the kitchen shop at Ballymaloe Cookery School in Cork, Ireland after attending a cookery class. I didn't have it…I felt I needed it…
And, last but not least – thank you very much – is my vinaigrette whisk.
At the end, they either:
Think I'm crazy but, in an attempt to salvage our friendship are keeping this opinion to themselves or
Are truly fascinated by my collection of whisks and begin to ask me about all of my spatulas!
So – dear readers – you get the idea. I DO love gadgets…big ones, small ones…all of which have a few things in common: they must be functional and they must be easy to clean because in my old-house kitchen I do not have a dishwasher. What?!?! And that is for another discussion…