We had such wonderful nicknames for my Mom. She always laughed good naturedly, but I'm not sure she was thrilled overall.
When I was in high school, we convinced one of our business teachers that my Mom was a Hungarian gypsy who danced with tambourines and ribbons. The teacher was convinced she was going to dance for us at our class picnic. Never happened. Friends and their family still refer to my Mom as "The Gyps".
Lovely Louie was another nickname…and I would tease her around my friends and tell them that only she knew where Hoffa was buried. Over time, our kids called her Grandma Louie.
And she made the most amazing stuffed peppers. A few years before she passed, I asked her to teach me how to make this ethnic deliciousness and she obliged. She was of the "no recipe" school—so, for this particular recipe (which will drive you absolutely crazy!)—there is no actual recipe, just a blueprint of sorts.
A few things are critical:
Do NOT cook the rice ahead of stuffing the peppers.
You want a pot with a lid that fits everything snugly in place (generally a 4 qt. is the perfect size)…and the better quality for heat conductivity the better the results (and the easier the clean up). I'm sharing my favorite pot for this…it yields amazing results and clean up is a breeze. (Excuse me while I preach for a minute): Quality kitchenwares are worth every penny.

Trust me on this…or ask my sister who always burns the bottom of the pan!
You will have more filling than peppers…so just fill around the peppers with the extra filling; you won't be sorry about this. It's all delicious.
Make more than you will eat in one sitting. Stuffed peppers freeze well.
Cook low and slow and keep them covered with liquid (so that means check them every so often and add a little more water if needed). No whining…just do it.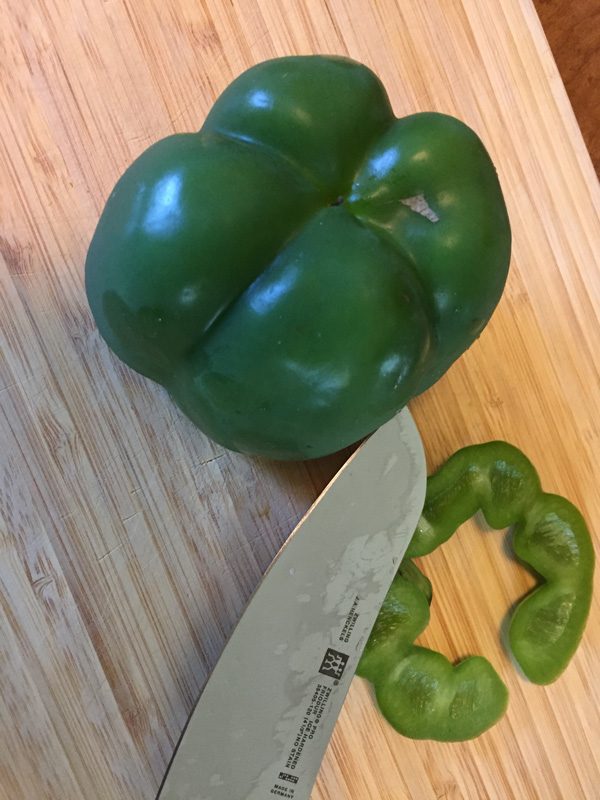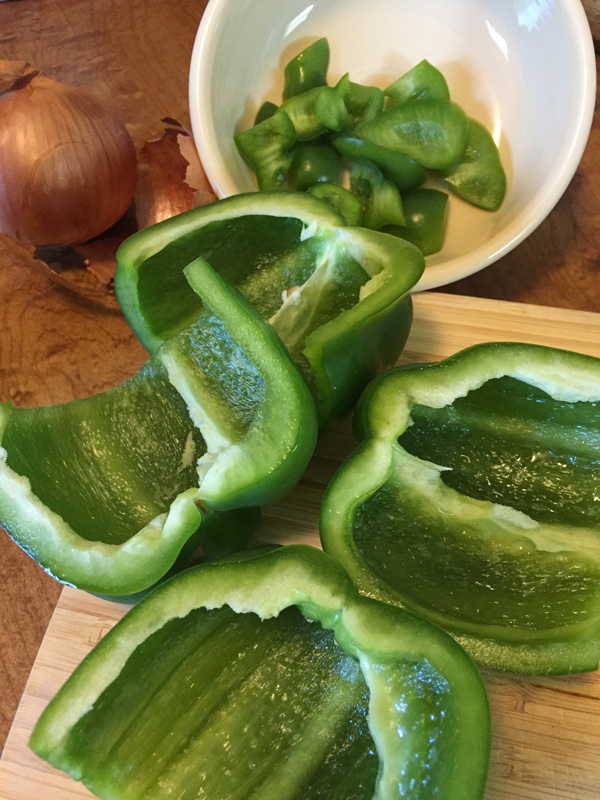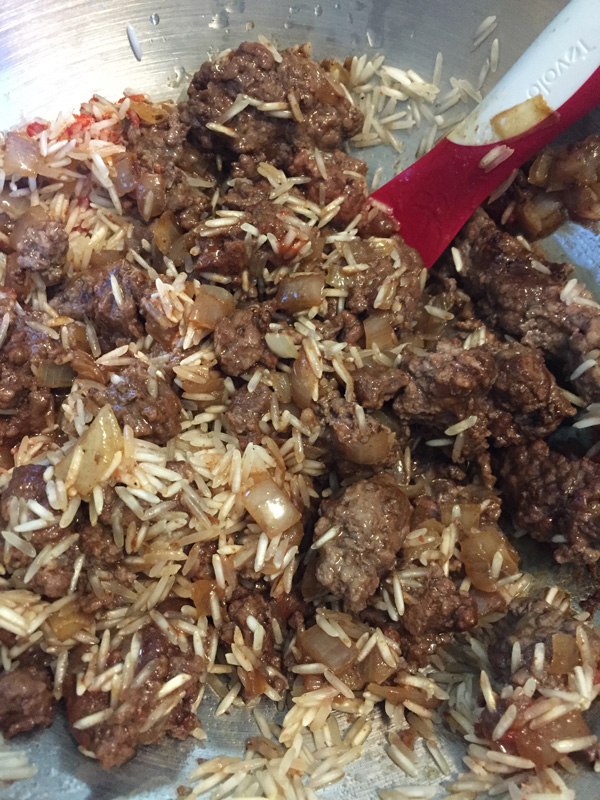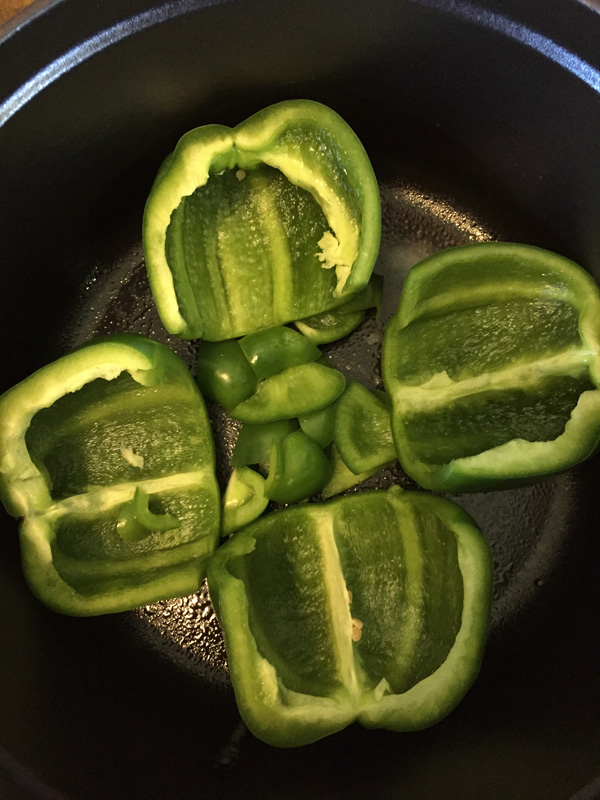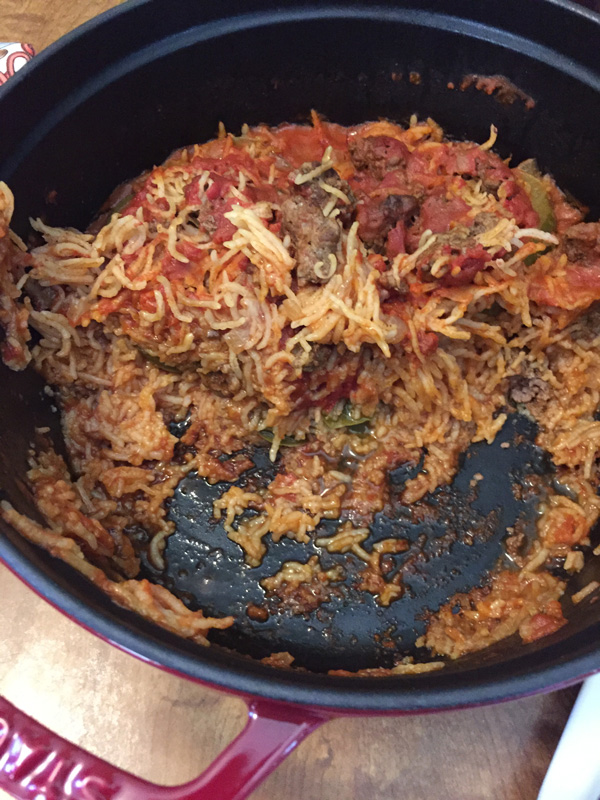 Thank you, Mom, for this memory of you every single time I cook and enjoy it. I know she's only partially listening because she's up there dancing and singing to her favorite song with Robert Palmer!
Here's my "no recipe", loosely translated. Don't stress about it…just go with it! Cooking with me is a delicious adventure.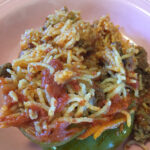 Print Recipe
Grandma Louie's Stuffed Peppers
Ingredients
2

large green or red bell peppers

2 ½

cups

long grain rice

(I've used basmati and jasmine…whatever)

1

medium yellow onion

1

Tablespoon

vegetable oil

1 ½

lbs.

(very lean) ground beef

1 ½

teaspoons

sea salt

1

teaspoon

freshly ground black pepper

2

generous teaspoons

Hungarian paprika

1/8

teaspoon

cayenne pepper

1

can (at least 14 oz.)

tomato sauce, plus water as needed
Instructions
Lightly spray the bottom of the pot AND the underside of the lid.

Cut the bell peppers in half (as illustrated) and seed them; chop any pepper pieces to fill the pot.

Rinse the rice several times in cool running water; drain well.

Peel and dice the onion. Heat the oil in a large sauté pan. Add the diced onion and cook over medium-low heat, stirring often, until onion is soft and lightly golden.

Add the ground beef, stirring and crumbling, until well mixed and beef is just cooked through. Stir in the rice to combine and continue to cook and stir over medium-low heat just until rice is lightly "toasted", about 10 minutes.

Remove from heat and mix in the salt, pepper, paprika and cayenne.

Lay the pepper halves in the pot and fill surrounding area with any remaining pepper pieces. Fill the hollows of each pepper with the meat mixture, mounding generously. Fill any open areas surrounding pepper halves with any remaining mixture.

Slowly pour the tomato sauce atop the peppers. Add water to bring the liquid to about 1" above the top of the peppers. Note that additional liquid will need to be added as the peppers cook because the rice will absorb it!

Bring the mixture to a boil over medium-high heat, then immediately drop the temperature to medium-low. Cover the pot.

Cook covered over medium-low heat, for 35 to 45 minutes or until the peppers have softened and the rice is cooked through.
Bev's Bites
Check your cooking every 10 minutes to be sure there is still liquid in the pot and the peppers are not burning at the bottom; heat source can be reduced to low to cook and the peppers will simply take a little longer to finish cooking.
*Note that this post may contain affiliate links, and I may receive something from purchases. Thanks in advance!