When you're thrown into uncomfortable situations you learn a lot about yourself. Over the past several years since my husband was diagnosed with Alzheimer's and I've navigated this life that we find ourselves living, I've learned a lot about me.
Things that were important before have undergone constant evaluation.
I've been a long time fan of comedian George Carlin. Sometimes dark, sometimes edgy, always observant of life's most common dilemmas. His quote is at the moment most appropriate:
"Some people see the glass half full. Others see it half empty.
I see a glass that's twice as big as it needs to be."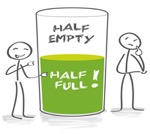 Let's evaluate cleaning first. Cleaning is like meditation…but I don't always want to meditate. Sometimes I want to just turn a hockey game on TV and watch grown men with razor sharp skates and a stick with a curved and sharpened edge skate back and forth for 60+ minutes and shoot a solid rubber disc at some guy in front of a net who must have been picked last in gym class.
I love ice hockey. Have been an avid fan for years…and when I can't be at a game in person (which is often) we watch it on TV. John has now become a fan, too, and we enjoy watching together. He loves to go to the games and slap the players' hands as they're coming onto the ice. We've gone to a few games, but what makes me smile the most is the very next day John will ask me if we're ever going to go see a game in person. He enjoys—then forgets. Sigh!
And let's talk about the goalie for a minute or two. How do you train to become an ice hockey goalie? It goes against every instinct you've learned—to duck when something is flying at you; to move out of the way when someone is raising a stick near your face, mask and pads or not. It's counterintuitive.
But the biggest observation of all is how easily I am distracted. It's my coping mechanism. I get a lot done—I'm very productive—but I work in ways that are counterintuitive—like a goalie in the NHL.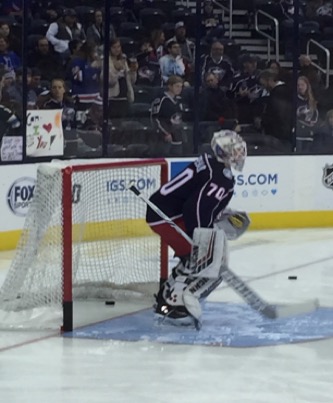 And I measure my successes in ways that are not typical. Did I spend enough meaningful time with John? Did we get some fresh air and have a little fun? Did we eat nourishing food combined with a few things that aren't so nourishing? Did we laugh? Did we hug? Did I say, "I love you" at unexpected times? Is the house clean and safe? Did I fulfill any other obligations I've committed to? Did I stay in touch with friends? Do we have enough clean underwear?
If I can answer yes…the glass is just the right size.