I love to make cupcakes. Little rounds of cakey goodness that turn any day — and every day — into a party.
My faves are simple—a butter cake with a sweet vanilla frosting, both enhanced with Tahitian Vanilla Extract.
Perfect flavor profiles.
But eating those cupcakes without embellishment is just, shall we say, boring!
Listen up party people. Either shared or having your own private party demands that these cakey party favors be garnished with jimmies. We are not debating this.
Also known as sprinkles, jimmies is what I grew up calling them in New Jersey. I always had chocolate jimmies on my coffee ice cream as a kid…and never missed a chance to dip and dunk something into those little crunchies.
THE best collection of technicolor jimmies—a fun and funky edible collection of shapes and sizes–should be suitable for royalty…as here.
Enough chatting—heat that oven and let's bake…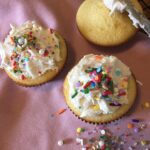 Print Recipe
Butter Cake Cupcakes
Ingredients
½

cup

unsalted butter

room temperature

¾

cup

granulated sugar

2

large eggs

1 ½

cups

unbleached, all purpose flour

1 ½

teaspoons

baking powder

½

teaspoon

salt

use your favorite here—it doesn't matter

½

cup

milk

whole, 2% or skim

1

teaspoon

Tahitian pure vanilla extract

Paper baking cups

Vanilla Frosting

Assorted Technicolor Jimmies
Instructions
Heat oven to 350°F.

With an electric mixer, beat the butter and sugar at medium speed until creamy. Add the eggs, one at a time, beating until blended after each addition.

In a small bowl, combine the flour, baking powder and salt. Add to the butter mixture alternately with the milk, beginning and ending with the flour mixture and beating at low speed until blended after each addition.

Stir in the vanilla.

Place paper baking cups in 12 muffin pans; spoon batter into cups, filling two-thirds full.

Bake for 12 to 15 minutes or until a toothpick inserted in the center comes out clean. Cool in pan on wire cooling rack for 5 minutes, then carefully remove from pans to wire rack and cool completely.

Once cool…frost and sprinkle away with those jimmies. Enjoy every single celebratory bite.
Bev's Bites:
Use your favorite vanilla frosting recipe or improvise. Really?! It's not that complicated. Sifted powdered sugar, room temperature butter, vanilla extract, milk—beat until smooth. Got it? Good.
*Note that this post may contain affiliate links, and I may receive something from purchases. Thanks in advance!