As long as the pieces were large enough and the number of pieces was somewhere between 25 and 60—John enjoyed the repetition and the activity of puzzles. It was a new hobby, but the repetitiveness and that half of the dining room table that was his devoted puzzle area kept his mind somewhat active.
When we traveled I would pick a few of his favorite puzzles so that if he became bored or needed a task to ground him, a task to remind him of home and calm his nerves, he would have his familiar puzzles.
He would often come along with me to meetings. We would arrive early so he could set up a puzzle table to have all to himself. He would assemble the puzzles once or twice. People would walk by and give him "advice" on how he should assemble the puzzles…and he usually wouldn't even acknowledge their one-sided and not welcome conversation. When he'd had enough he would pack them away and listen to the remainder of the meeting—or put his head down on the table to rest—a signal to me that he was ready to go home.
Over time, Ray along with some friends and I have gifted him some fun and unique puzzles. Custom made puzzles with him riding a Soap Box Derby car at Derby Downs. Or a collage of the two of us "having fun".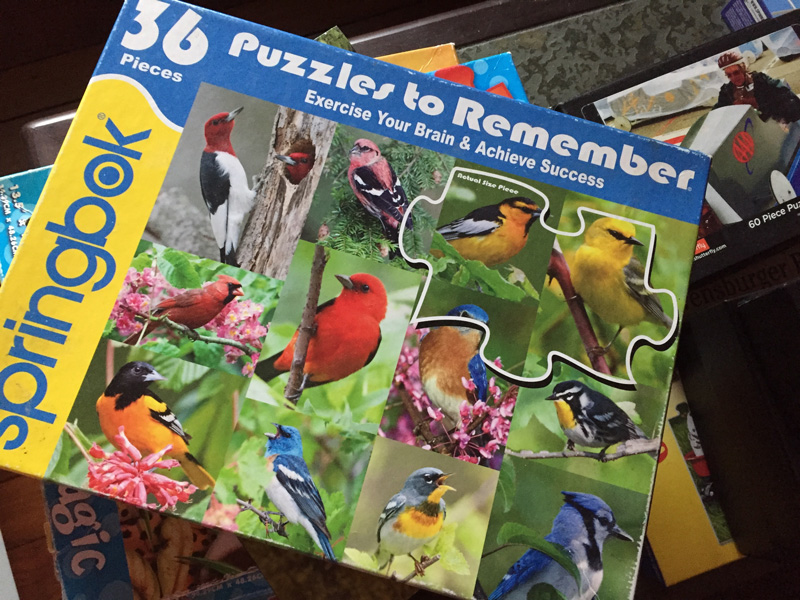 The colorful bird puzzles have pieces lovingly worn by repeated use. There's the USA puzzle, more birds and the adorable puppies and kitten puzzles.
I watched with more heartbreak that ability and interest fade as he would sit, confused, trying desperately to put together a puzzle he had worked on so, so many times. It would be left, untouched and unfinished, until I boxed it up hoping (in my "angry at the world that Alzheimer's has robbed this man of another pleasure") that the interest would return.
And then…like so many of life's seemingly simple things…that interest, that ability was gone. No matter how hard we try. No matter how much we care. Life's memories become a puzzle of "John and Bev Having Fun" I refuse to box away.