Fresh and local sweet corn was late this year and driving home I remembered that I'd been so obsessed with local berries and juicy peaches I had forgotten about Ohio sweet corn.
We happened upon a country neighbor about 10 miles from home and while John waited in the car I popped out to buy some heirloom tomatoes, small yellow onions and half a dozen ears of "just picked" corn.
Back home, I husked the corn and took the shreds outside for our black lab to do his favorite thing—tear through it using his teeth and paws with the precision of a brain surgeon to find and enjoy those few morsels I had missed.
The bicolored corn was not as freshly picked as promised, but I was determined to enjoy it so I set out to make a large batch of damn good corn chowder.
I added red bell pepper and Hungarian sweet paprika for color and some cayenne pepper for a little punch.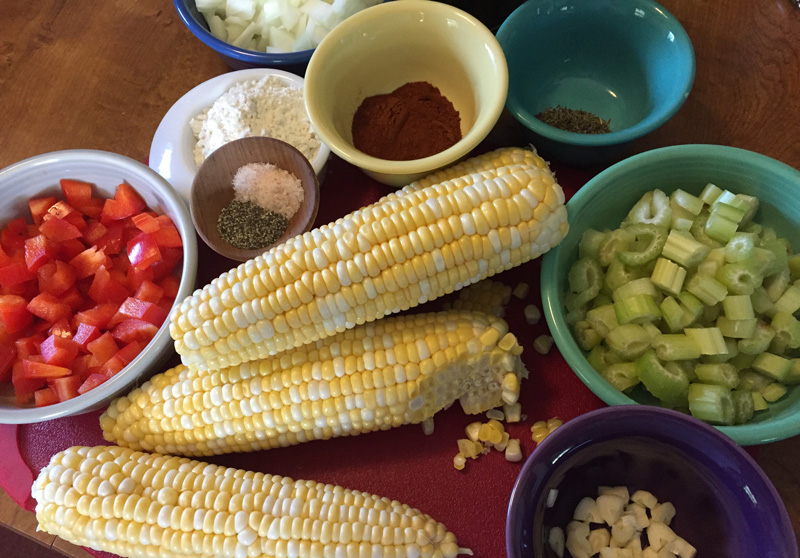 I didn't precook the corn (but you could) because I like it crunchy. I did partially cook the quartered baby Yukon Gold potatoes.
Opted for chicken broth (personal preference for flavor)…but you know you could sub in a quality vegetable broth and satisfy those vegetarians among us.
And although I don't normally have heavy cream at home unless I'm rockin' homemade pumpkin pie, adding it elevated that chowder from good to well, damn good!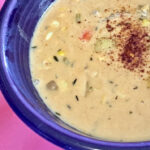 Print Recipe
Damn Good Corn Chowder
Ingredients
4

cups

quartered baby Yukon Gold potatoes

3

Tablespoons

vegetable oil

½

cup

(8 Tablespoonunsalted butter

2

cups

minced yellow onion

2

cups

minced celery

1 ½

cups

minced red bell pepper

3

garlic cloves

peeled and sliced

2

teaspoons

dried thyme

crumbled

½

cup

unbleached

all purpose flour

Sea salt to taste

Black pepper to taste

32

oz.

chicken broth

3 to 4

cups

sweet corn [frozen corn

unthawed, can be used as well]

1

cup

heavy cream

2

Tablespoons

sweet Hungarian paprika

Dash of cayenne pepper
Instructions
Cook the potato pieces in boiling water for 5 minutes. Drain and rinse; set aside.

Heat the oil and butter in a large French (Dutcoven over medium heat. Add onion, celery and bell pepper. Cook, stirring occasionally, for 5 minutes. Add the garlic and thyme and cook, stirring, until onion and celery are softened, an additional 5 minutes.

Add the flour, salt and pepper and stir until the flour is completely incorporated. Add the broth and bring mixture to a boil.

Once broth is boiling, add the corn, cream, potatoes, paprika and cayenne pepper. Allow mixture to simmer, stirring occasionally, for 15 minutes or until potatoes are tender but still firm.

Remove from heat and allow to sit for 15 minutes; taste and adjust seasonings if needed. Serves 4 to 6.

Enjoy with cornbread or a fresh baguette.