Some recipes require commitment. Time commitment. Flour everywhere commitment. That's the way it was with my Peach Dumplings recipe.
I wanted to make them. Correction: I wanted to eat them, warm from the oven, with their own slightly thickened maple syrup sauce. I wanted someone else to make them.
But—no one else showed up. No one else volunteered.
Not one friend called and said, "You know, I've been thinking about you and how stressed you must be. Let me come over and make Peach Dumplings while you just sit with your feet up, enjoy a glass of wine and relax."
Damn.
I recovered from the disappointment, rearranged my table so I could begin, then mise en place'd away! Dough first: flour, baking powder and baking soda, sugar, pink Himalayan salt (why not? I have it; I use it!), butter and buttermilk.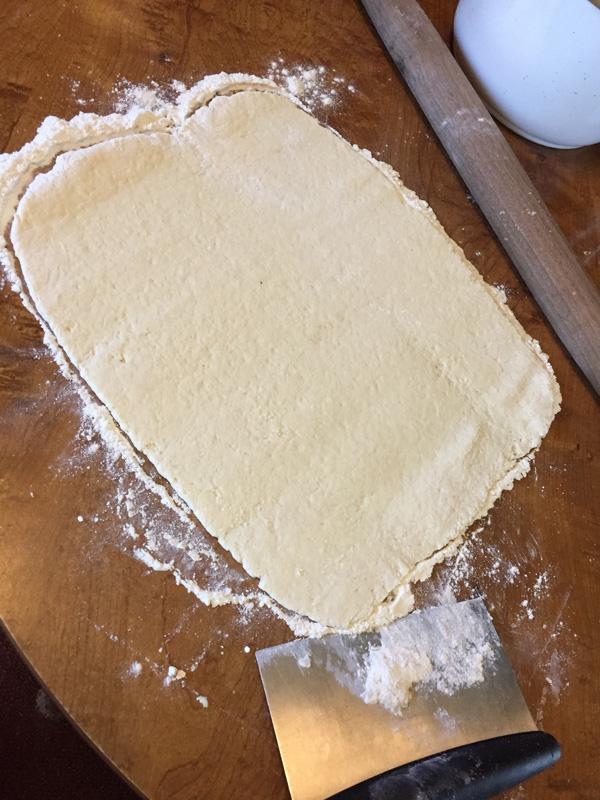 Then, before I began making the dough, I got the dumpling ingredients ready as well. Peachy filling: peaches (ripe, please, or you won't be able to halve them easily), cinnamon, Ohio maple syrup, milk and sugar.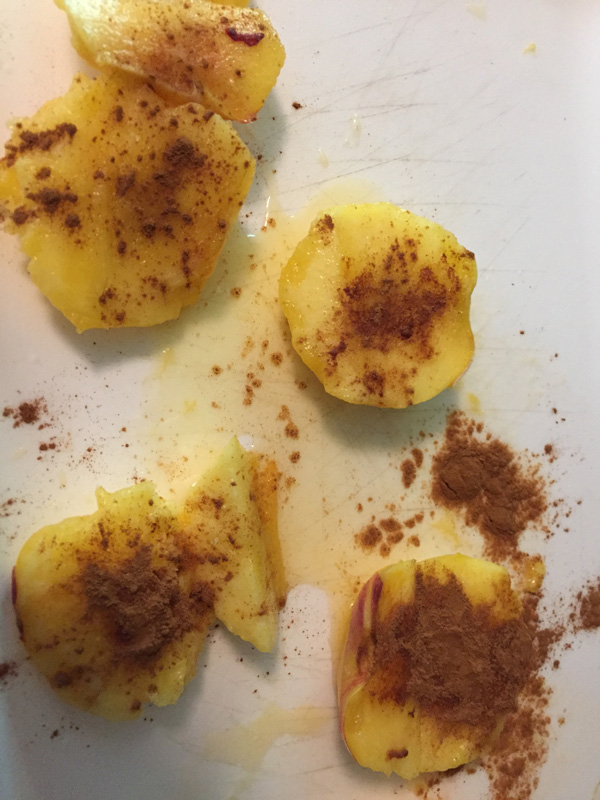 13" x 9" pan, lightly greased with a tab of butter ~ check.
Oven heated to 425°F ~ check.
I was ready to rock and roll.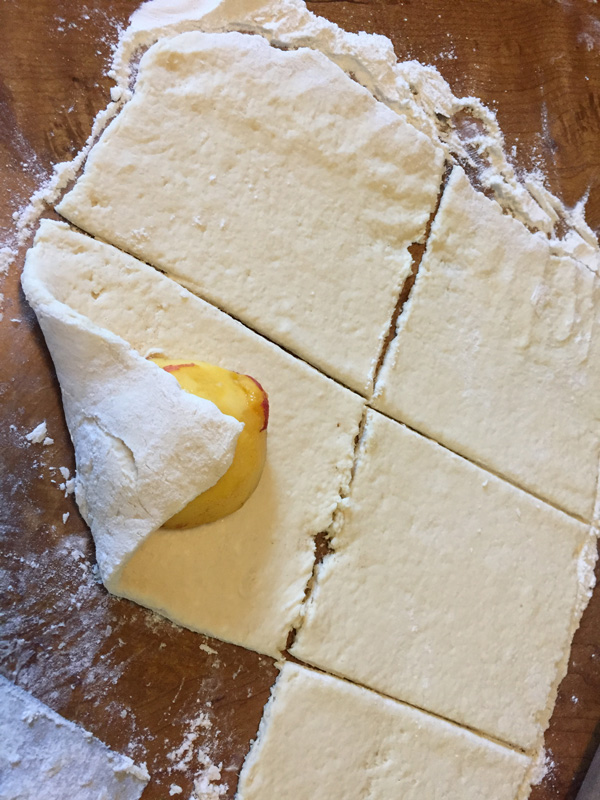 I've broken the two steps to this recipe down for you—and yes, they take some time. But once everything was prepped out, all was easy. And the end result? Those "no show" friends would be jealous…luscious dumplings loaded with peak of the season fresh peaches and a hint of maple syrup.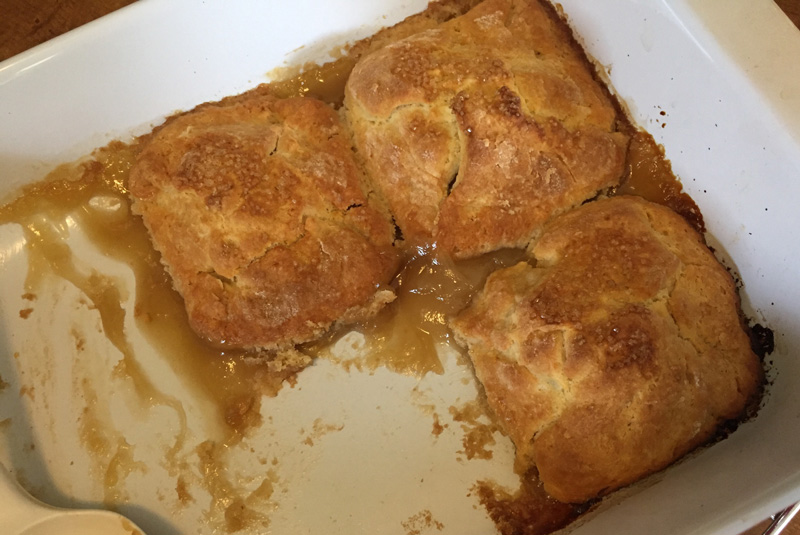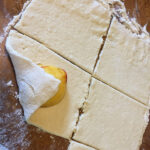 Print Recipe
Biscuit Dumpling Dough
Easy to put together, this dough is soft and tender—a nice variation from the traditional pie crust used often for dumplings.
Ingredients
2

cups

unbleached

all purpose flour plus more if needed

2

teaspoons

baking powder

1

teaspoon

granulated sugar

½

teaspoon

baking soda

½

teaspoon

salt

6

Tablespoons

unsalted butter

cut into pieces, cold

¾

cup

cold buttermilk
Instructions
Combine the flour, baking powder, sugar, baking soda and salt in a food processor fitted with a metal blade. Pulse once or twice to mix.

Add the butter; pulse just until the mixture resembles coarse crumbs.

Transfer mixture to a large bowl; stir in buttermilk just until the flour mixture is moistened and comes together as a dough. If dough is overly sticky, add more flour a Tablespoon at a time until ready to use. Place dough on a floured work surface and gently knead a few times, sprinkling lightly with flour if needed to keep it from sticking.

Heat oven to 425°. Lightly grease a 13" x 9" pan; set aside.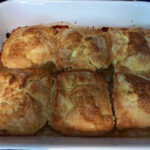 Print Recipe
Peach Dumplings
Ingredients
3

large

ripe local peaches

½

teaspoon

cinnamon

½

cup

Ohio maple syrup

(no substitutes…we are not discussing…just pure maple syrup)

1/8

teaspoon

salt

½

cup

water

Biscuit Dumpling Dough

2

Tablespoons

half and half or milk

1

Tablespoon

coarse

natural sugar or maple sugar
Instructions
Peel the peaches; halve and pit. Place on a cutting board and sprinkle the cut sides with the cinnamon; set aside.

In a small saucepan, bring the maple syrup, salt and water to a simmer over low heat; stir occasionally. (Keep an eye on this so it doesn't burn; feel free to remove from heat and keep warm if it makes you nervous.)

On a floured surface with a floured rolling pan, gently roll the dough into a 12" x 18" rectangle. Lightly dust as you go with additional flour to keep the dough from sticking (as much as possible!). Cut the dough into 6 squares.

Place a peach half cut side down in the center of one piece of dough. Gently pull the four corners of each piece of dough up and over each peach, pinching the edges to tightly seal.

Repeat with remaining peach halves and pieces of dough. Transfer the dumplings to the prepared dish, forming two rows.
Bev's Bites:
The dough is tender; if it tears, pinch it together. No one is going to say, "Oh, these aren't perfect." – and if they DO say that, don't ever invite them back!
Pour the hot syrup over the dumplings. (This will freak you out. You'll be thinking: "I want the dough to be crisp and flaky and now it's going to be soggy?" It won't. Relax.)
Brush the dumplings with the half and half and sprinkle with the coarse or maple sugar.
Bake until the dumplings are golden brown. Begin checking at 20 minutes. Let cool in the baking dish on a wire rack about 10 minutes. Serve warm with some of the sauce. Serves 6 (maybe).
*Note that this post may contain affiliate links, and I may receive something from purchases. Thanks in advance!